Stanard Cab
Priced to move!
---
Here's the email from Andrew Doucette:

Hello Stan!
Just found your site.  Very cool.  I'm selling the old Metro, which still has
"Stanard Cab" on both doors, and thought there might be a spot somewhere you
could include the pix for any fans out there who might possibly be interested
in buying it. I've advertised elsewhere and had a few nibbles, but no serious
bites yet.

1956 Nash Metropolitan.  Featured prominently in Stan Ridgway's "drive she
said" music video.  Runs great, new interior (luxurious black carpet, side
panels, upholstery, new white headliner and sunvisors), new wiring harness,
etc, etc.  Yellow and black.   Owned for over 15 years and put more than
$10,000 into replacing, repairing and improving the car. You name it,
Valentine's Metropolitan Pit Stop near here has probably it replaced it.
Asking $3800.00
Contact Andrew Doucette at (213) 669-8655 or E-Mail me at Acd56@aol.com

Thanks.

Sounds like a good deal to me. And if it's not enough for you that it's the Drive She Said taxi, you should remember that Lieutenant Columbo also drove a Nash Metropolitan. (Though his wasn't in nearly as fine condition.)

Update, January 26th 1998: Oops! Andrew emailed me and said that Columbo didn't drive a Nash, he drove a Peugeot 403, and he sent me this cool URL to prove it. Well, they sure look similar, don't they?
---
Here's the full-size picture: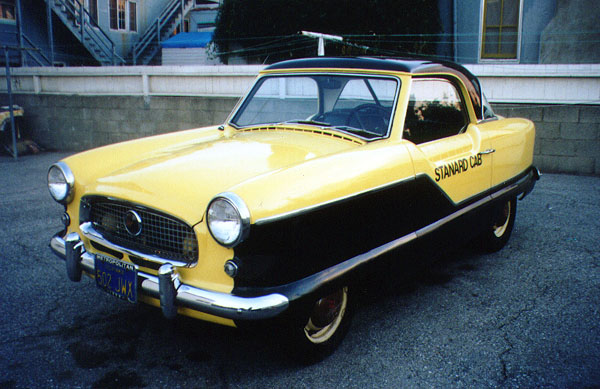 ---
Stanard Cab / Larry Hastings / larry@hastings.org